Promac HSL Series Standard Flow Skid Steer & Excavator Mulcher
The Promac HSL series high production skid steer and excavator mulcher is the most versatile of Promac's mulchers. This attachment is suitable for almost any application and is configurable to both skid steers and smaller excavators. The HSL series is equipped with our sharp tooling Chip Production Rotor (CPR), a customer favourite which produces a small and even mulch. The attachment's compact design and light weight offers greater visibility and manoeuvrability compared to other taller models.
HSL Series Standard flow Skid Steer & Excavator Mulcher
Suitable for skid steers from 70-95 hp with a hydraulic flow of 20-35 GPM @ 3500-4000 psi, this versatile machine makes quick work of brush and 6", or smaller, diameter trees. The HSL series has a cutting width of 60″ and a 17″ diameter drum that is equipped with three tooling options to suit your working conditions. The drum is powered by a hydraulic variable torque bent axis piston motor and the Promac Automatic Torque Controller (ATC) for class leading productivity. This machine incorporates high strength steel and wear resistant parts that are easily replaceable, ensuring your operation runs smoothly for years.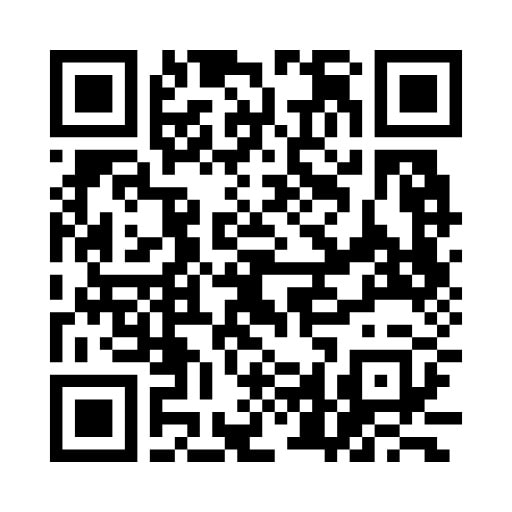 Product specifications for Promac HSL Series
Skid-steer size (flow)
low flow
Excavator size (tons)
8-15
cut width
60″
approx. weight
2200 lbs
motor size (cc)
55 variable standard
75 cc variable available
motor type
bent axis piston with variable displacement
flow pressure (PSI)

3500 psi min
4000 psi max

tooling type
rotatable knives, beaver teeth or double carbides
tooling number
34
flow min (GPM)
20-35 GPM
THE DRUM
The CPR makes sure you don't bite off more than you can chew, and controls the discharge particle size. The drum features easily replaceable hardened steel wire cutters that prevent wire from winding around the drive shaft between the end of the drum and frame, damaging the bearing seals. All CPR holders and plates are manufactured from high strength steel for superior impact resistance and longevity. This innovative drum design keeps production rolling while creating a consistent mulch in a single pass.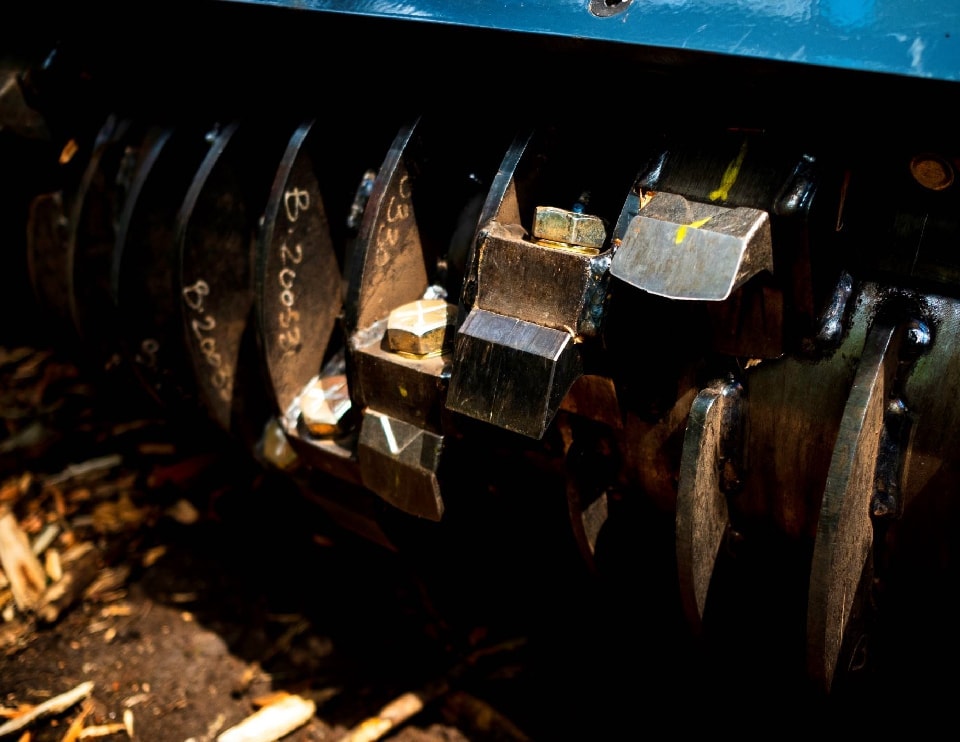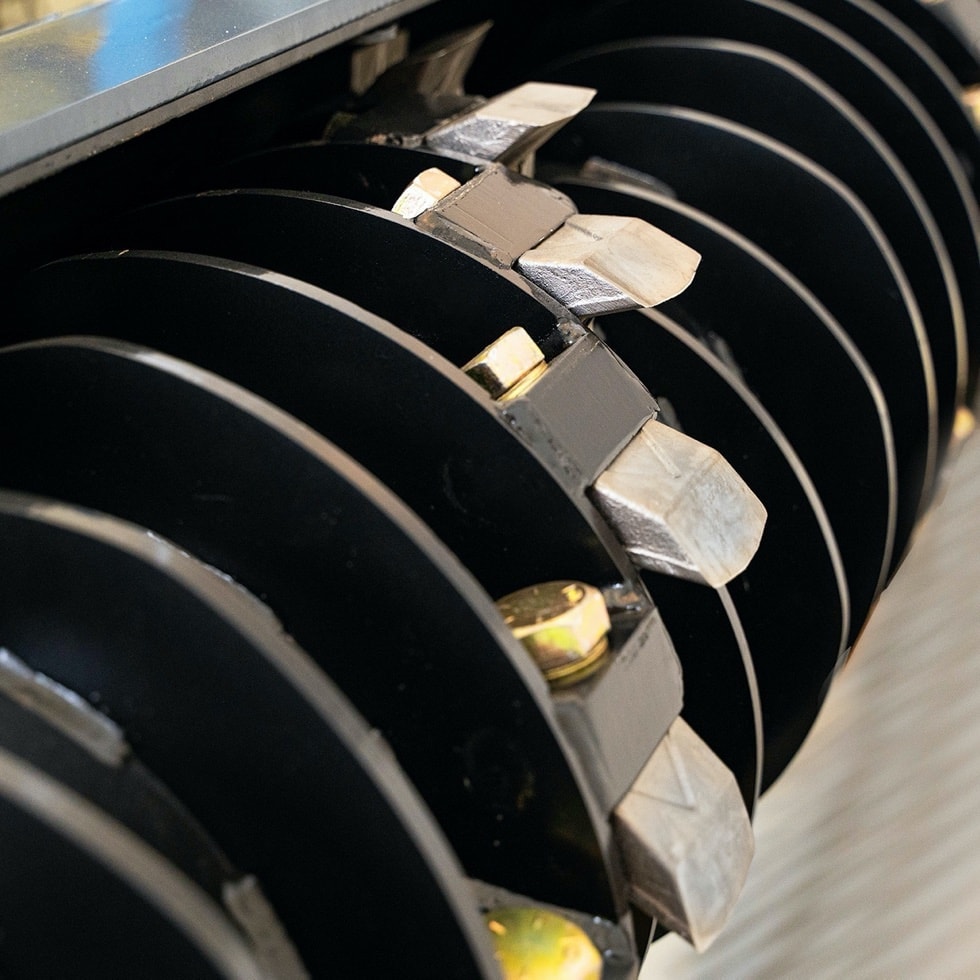 The Teeth
The drum accepts multiple tooling options to suit any budget, performance and ground conditions. Including: Promac's proprietary rotatable knives or "chipper teeth" for sandy conditions, double carbides for rocky conditions and, with the addition of a specialized adapter, beaver teeth.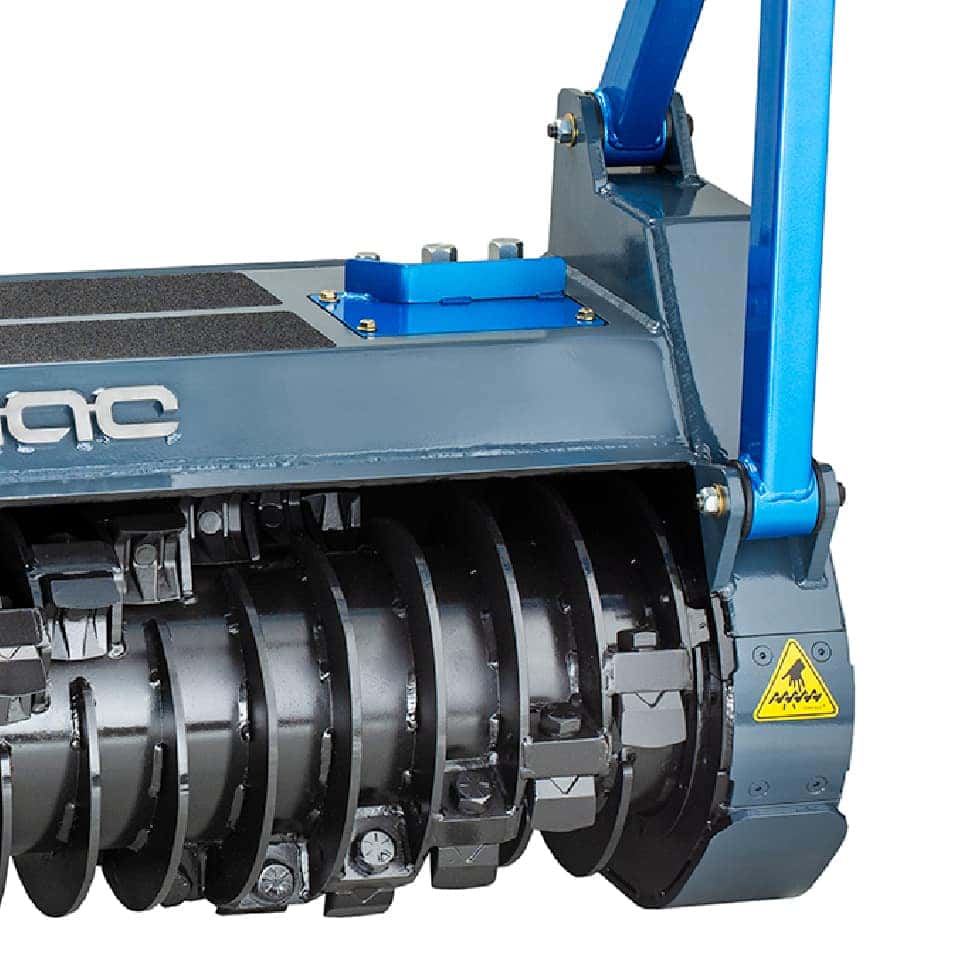 The Frame
Incorporates high-strength steel with full-strength welds for durability. Machined bearing plates within the boxed-in ends increase rigidity and durability resulting in longer bearing life and lower weight. The frame is low profile and close coupled to the skid steer resulting in outstanding operator visibility and great maneuverability.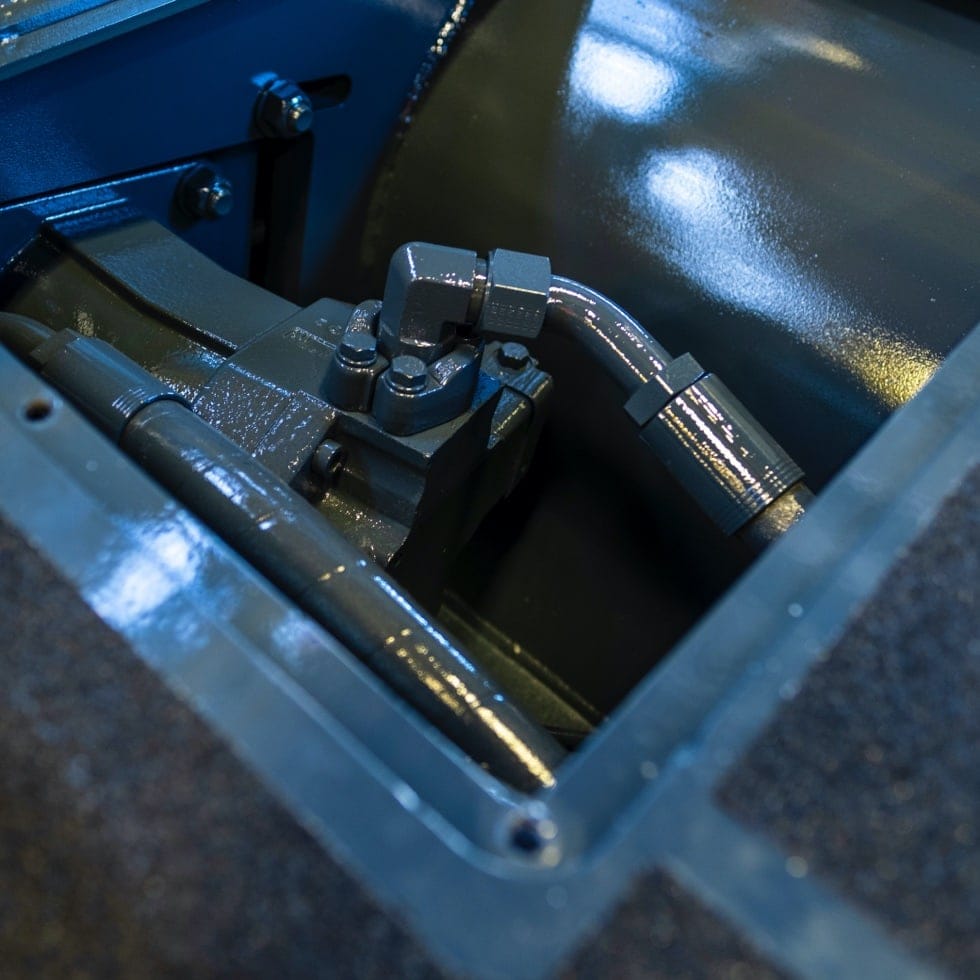 The Motor
The combination of the variable torque bent axis motor with the Promac Automatic Torque Controller (ATC) is a new Promac innovation that continuously matches motor displacement with the available hydraulic power for sustained drum speeds and increased productivity.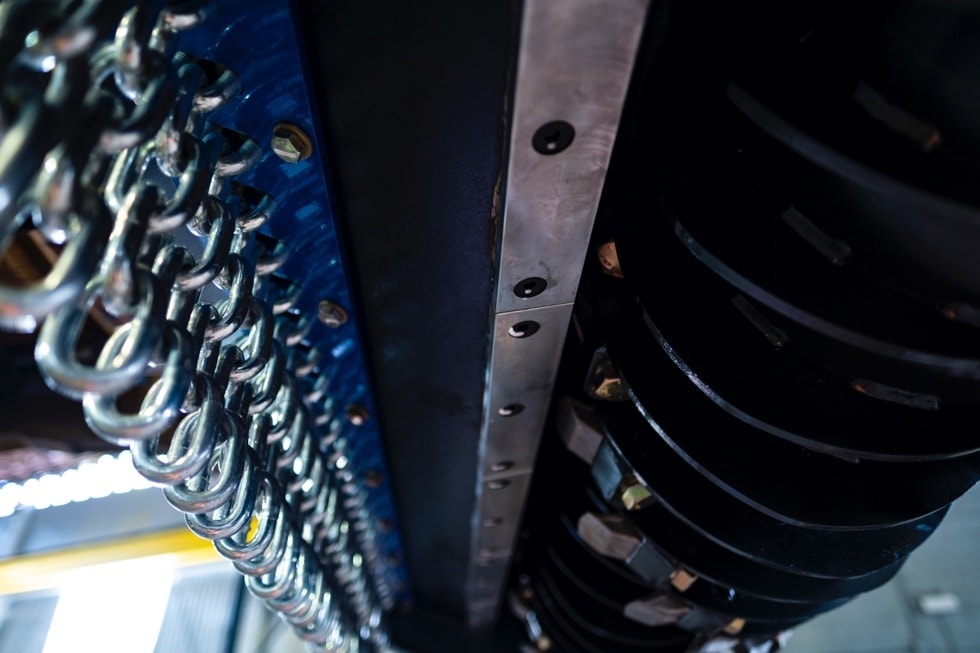 THE PARTS
Abrasion resistant steel, AR400, is incorporated in high wear areas and components that are replaceable ensuring longevity and easy maintenance. The replaceable parts include: The wear liner, the bolt-in skid shoes and the bolt-in rear anvil.
THE EXCAVATOR MOUNT ADD-ON
The excavator mount add-on has the potential to give the HSL60 superb utility for an equipment rental business or the operator that also has a small sized excavator in their fleet. In a matter of moments, the HSL can be detached from the skid steer and, with minor hose coupler adjustments, pinned onto an excavator.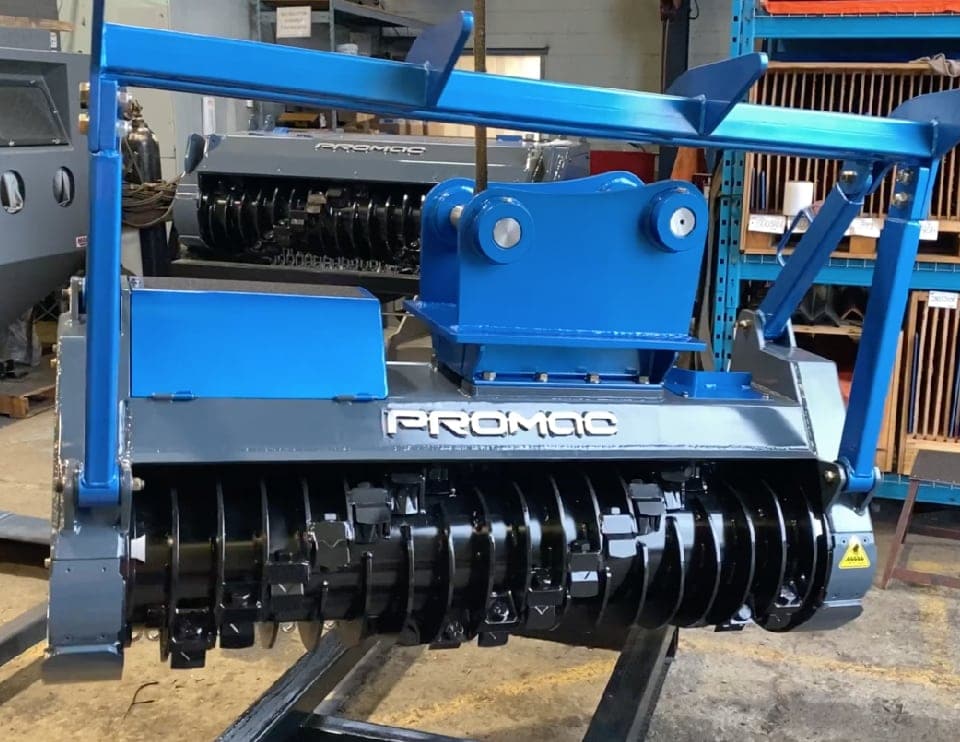 Versatile Tooling Options
The HSL series can be equipped with tooling tailored to suit the job conditions and desired end product. The machine comes with our standard rotatable knives that can be easily sharpened, reversed, and replaced. For best results in extreme or rocky conditions our double carbides are recommended. Beaver teeth are another great option for most working conditions.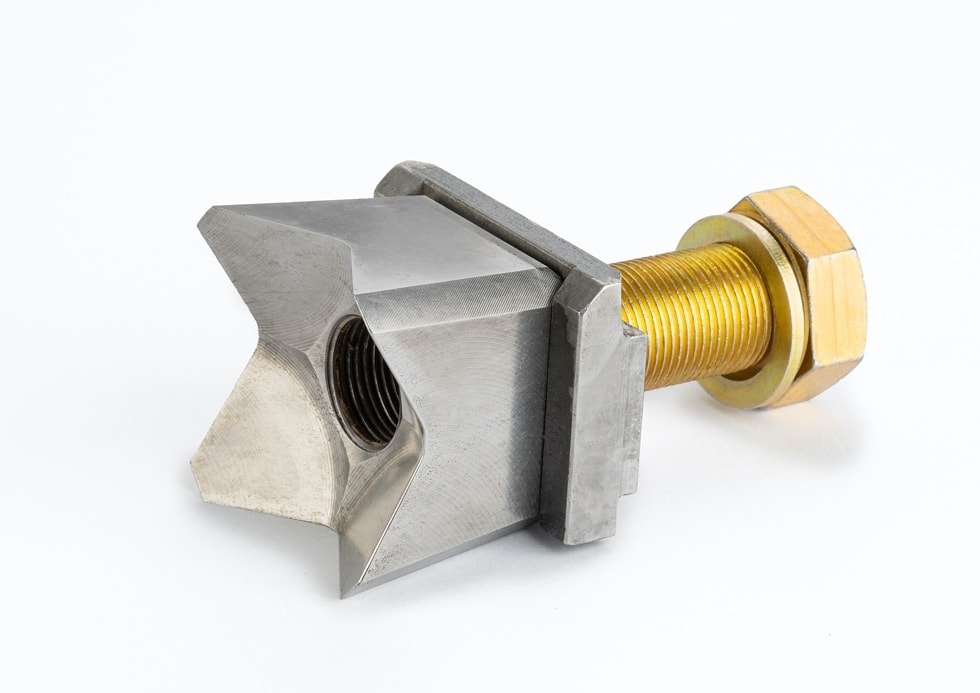 Beaver Teeth
Works for most conditions.
With the addition of a specialized adapter, the HSL60 drum can be transformed to accept very common and widely available 2 5/16″ beaver teeth which works well in most conditions.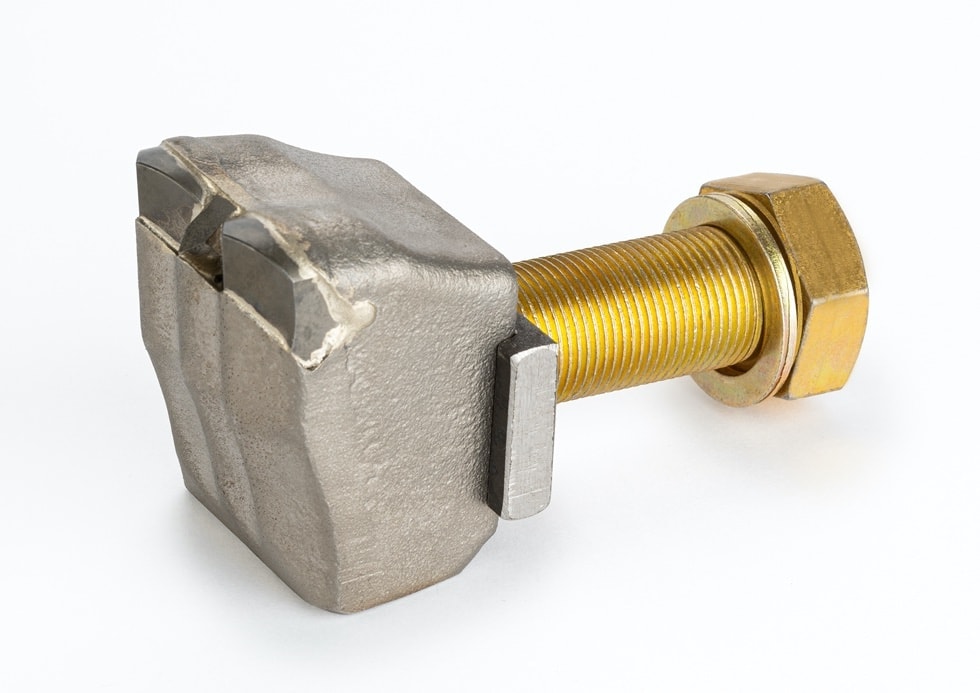 Double Carbides
Best for rocky conditions.
Promac's Double Carbide Teeth are extremely tough, lasting up to 500 hours. Because the attachment is more likely to make contact with rocks and other hard materials on the ends of the drum, we recommend purchasing Double Carbide Teeth for the outer 4 rows on each end of the drum (16 teeth), and leaving the middle section with the more efficient Chipper Teeth.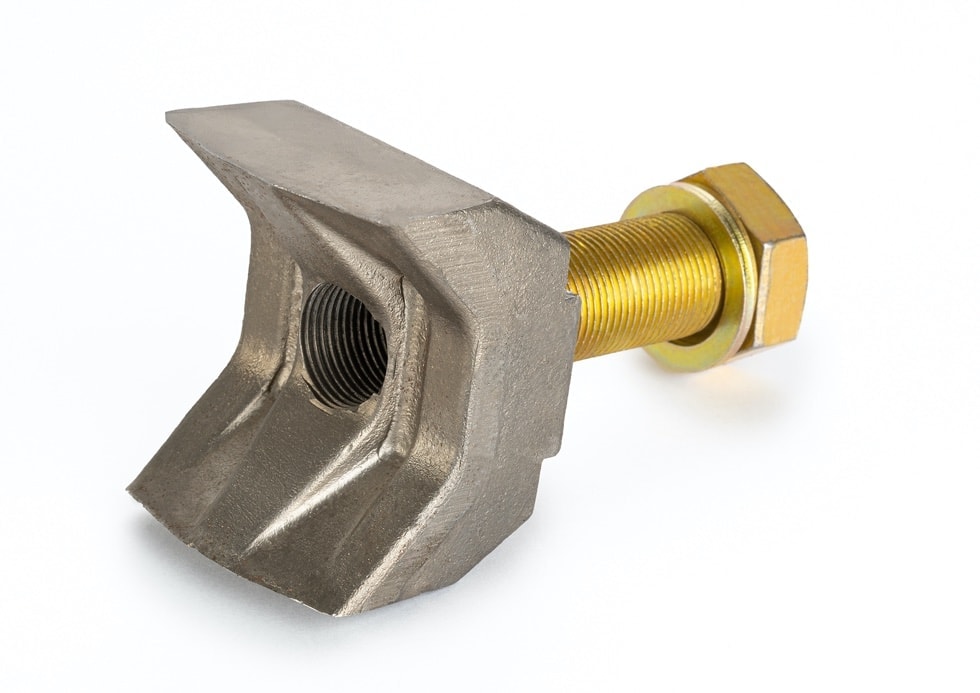 Rotatable Knives
Best for sand or soil conditions.
These can be sharpened, reversed, and replaced easily. They are extremely efficient at mulching wood and last between 40-100 hours per side depending on the conditions. They deteriorate quickly in rocky conditions.
The perfect match
Not sure if the Promac HSL 60 will fit your machine? Give us a call or shoot us an email and one of our reps will gladly help you.
Suitable for a mini-excavator weighing between 8-15 tons
Suitable for a standard flow compact track loaders ranging from 70-95 hp with a hydraulic flow of 20-35 GPM @ 4000 psi max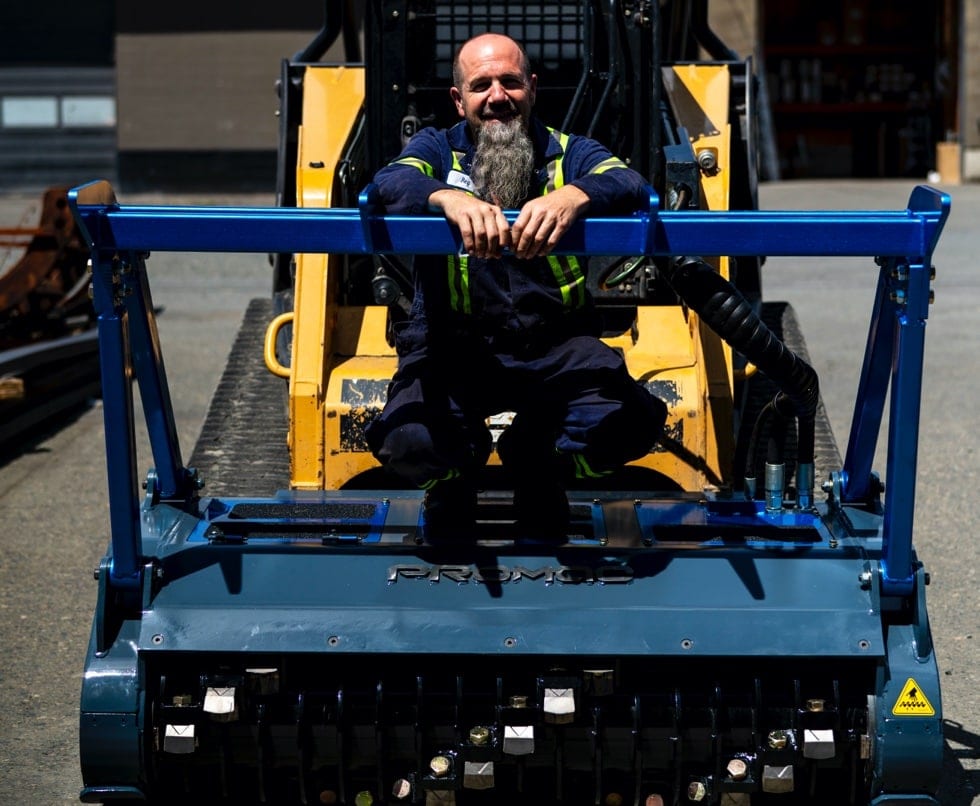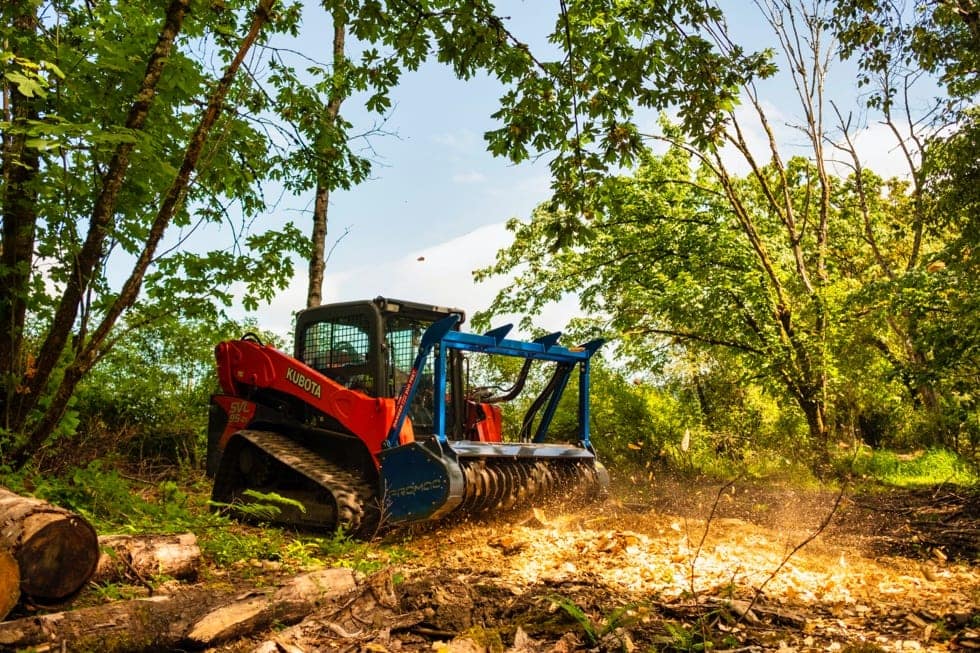 Built with safety in mind
A hydraulic brake is an option for those operators that are safety focused. The brake can bring the drum to a rapid stop to protect the operator and other workers.